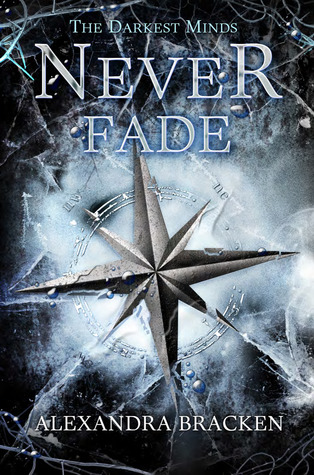 Four Point Five out of Five Stars. Check it Out on Goodreads
Here
SYNOPSIS:
Ruby never asked for the abilities that almost cost her her life. Now she must call upon them on a daily basis, leading dangerous missions to bring down a corrupt government and breaking into the minds of her enemies. Other kids in the Children's League call Ruby "Leader", but she knows what she really is: a monster.

When Ruby is entrusted with an explosive secret, she must embark on her most dangerous mission yet: leaving the Children's League behind. Crucial information about the disease that killed most of America's children—and turned Ruby and the others who lived into feared and hated outcasts—has survived every attempt to destroy it. But the truth is only saved in one place: a flashdrive in the hands of Liam Stewart, the boy Ruby once believed was her future—and who now wouldn't recognize her.

As Ruby sets out across a desperate, lawless country to find Liam—and answers about the catastrophe that has ripped both her life and America apart—she is torn between old friends and the promise she made to serve the League. Ruby will do anything to protect the people she loves. But what if winning the war means losing herself?
REVIEW:
"Portraits of weary fear, landscapes of sadness, miniatures of curiosity."
I enjoyed the story immensely however, this did remind me of the same pitfalls that many second books in series have. I felt like there was a bit more filler in this book then I would have liked, but even that included some awesome action scenes. I'm hoping that filler however is just more set up for the plot. Even though the landscape they went through kept me wondering how most of the dialogue wasn't
But fortunately Ms. Bracken is alot more imaginative than I am, and was able to keep the reality they were in, as a backdrop for the characters perseverance.
Oh Ruby Roo, you root for her, and hope for the genuine change shes hunting throughout the book. This is definitely filled with alot of emotional moments, but I enjoyed them all. The action kept me engaged and I anticipated every action scene because the characters are getting better at using their powers.
But the Moment I read this line
"Her voice was clear, each word cut from stone. Ruin Him"
I was sooo pleased that I could feel, the anger and relief that was being conveyed, and I was grateful once again that words could take me to that place. Everyone in this book has come to better terms with themselves and their choices. As the plot continues on in the series, I'm looking forward to learning how the characters will function, after loss, after pain, after learning the grand possibilities of what the future holds.
"Is it better to out monster the monster or to be quietly devoured?"
You cannot be saddened or surprised by what desperate people do in desperate times. The characters in this book are left tittering on the edge, the edge of something better, the edge of promises almost fulfilled. I wouldn't be surprised if the actions these characters take up in severity, because everything they'll do will be out of crippling necessity. I'm anticipating the final book and will be reading it sooner rather than later.
My Review for Other Books in the Series
Sparks Rise (The Darkest Mind#2.5)
In the Afterlight (The Darkest Mind #3)