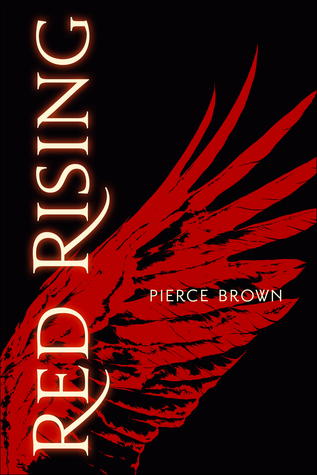 SIX STARSSSS!!!!
SYNOPSIS:
The Earth is dying. Darrow is a Red, a miner in the interior of Mars. His mission is to extract enough precious elements to one day tame the surface of the planet and allow humans to live on it. The Reds are humanity's last hope.

Or so it appears, until the day Darrow discovers it's all a lie. That Mars has been habitable - and inhabited - for generations, by a class of people calling themselves the Golds. A class of people who look down on Darrow and his fellows as slave labour, to be exploited and worked to death without a second thought.

Until the day that Darrow, with the help of a mysterious group of rebels, disguises himself as a Gold and infiltrates their command school, intent on taking down his oppressors from the inside. But the command school is a battlefield - and Darrow isn't the only student with an agenda.
REVIEW:
"I would have lived in peace, but my enemies brought me war."
I do not like war. I don't like to read about senseless fighting, about misery for the sake of what humanity has come to value as power. This book however connected with me so deeply emotionally, I found myself reacting to violence and blood unexpectedly. Approving vengeance, and gore
Darrow, spectacular on the hero's journey, standing out among all the other hero's that have gone before him. The writing was a delight and so it didn't matter that Darrow was the perfect, imperfect hero. What mattered was the tears down my face as I cared about this world, this story. What mattered was the care taken to have actual world building, and though it was confusing at first the effort required to comprehend this story felt like a passage, like earning a glimpse into the grasps of this perspective or should I say, paradigm.
As much as I enjoyed the book it was not without flaws. Towards the middle of this book I felt disconnected at times while reading on.
Weary of lots of telling and little else. But the middle book reading experience felt in line with how removed Darrow became from his goals, his drive, until he faced the turmoil that woke him up again.
Read this book!!!The only way for me to express how much I enjoyed it is to tell you, that after it I gave a monologue to my cat about sacrifice and honor.
I was drenched in the purpose, the vernacular, the unexpected adrenaline this book left me with. And my cat stared at me disinterestedly, as cats do. But I'm still reeling about the book, brimming over even as I gather my thoughts, and wish there was someone close I could convince to bless themselves with the talent of pierce brown. And now I must wait until, January to continue with Darrow, and the realization knocks me down some from the high I'm still on. I have the highest expectation for the rest of this series and have already marked my calender. But For Now The
Reviews in Series
Goldenson
(Red Rising Trilogy #2) by Pierce Brown.
Morning Star (Red Rising Trilogy #3)
by Pierce Brown